Here are balloon decorations that work outdoors.
This cluster streamer has its own weight (bottom-right of photo.. see how much room is needed for it to move in breeze)…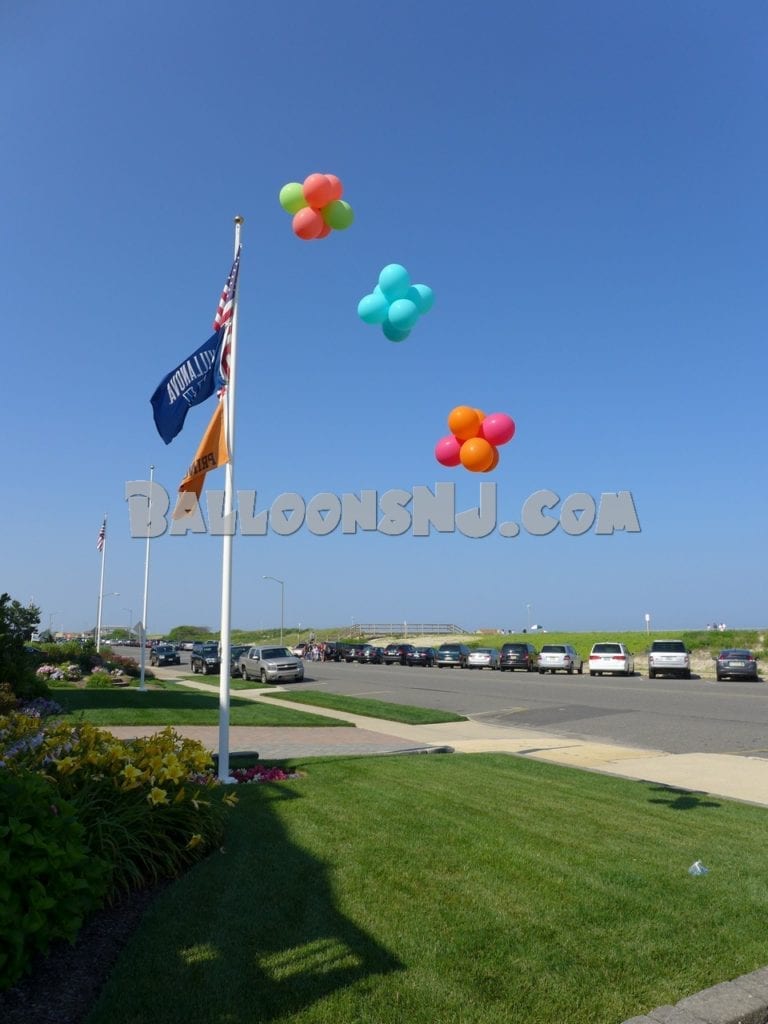 …tied to tent poles.
For open spaces like a large lawn or courtyard, the cluster streamer works real well and can match any color scheme. This example is tropical colors (in the perfect morning light) before they got placed at their intended locations.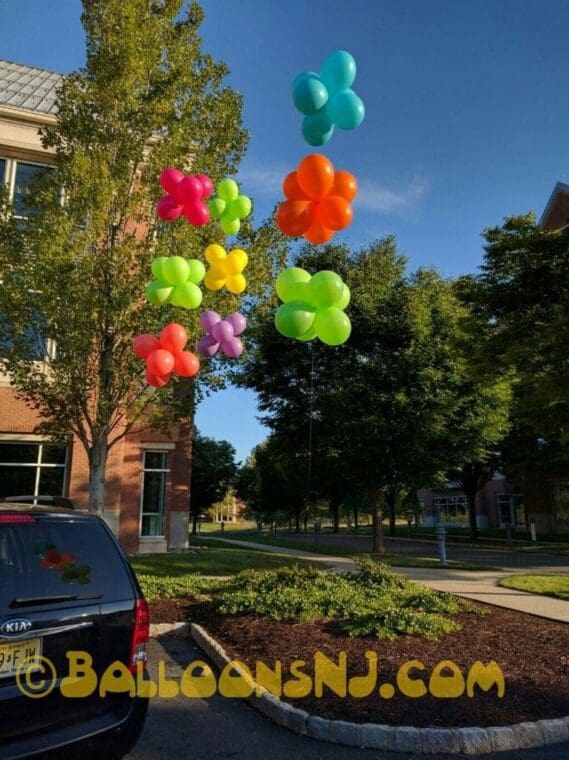 Single balloon streamers tied to tent poles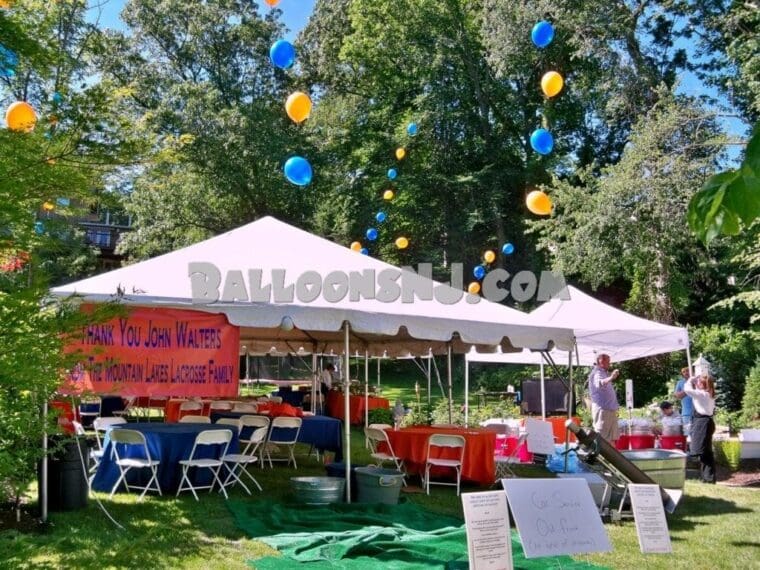 Inside tents and gazebos these air-filled clusters can often be rigged up.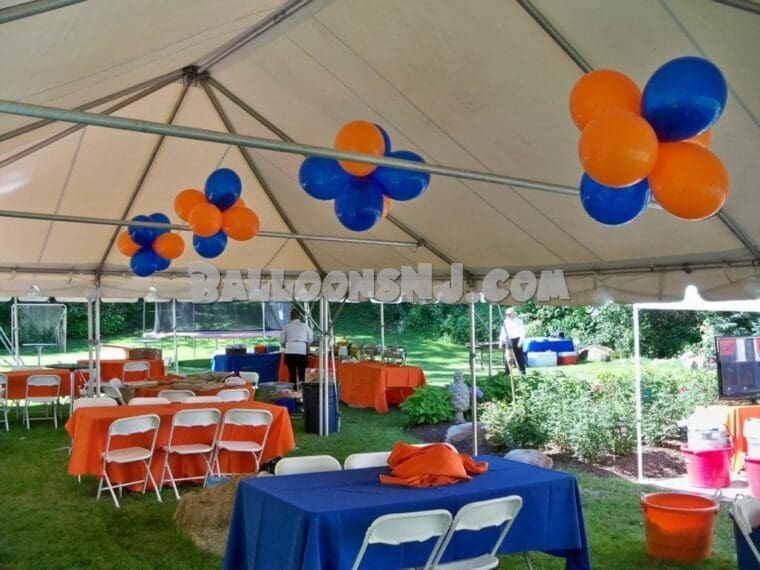 Even single balloons in various sizes can be stung on rigged lines..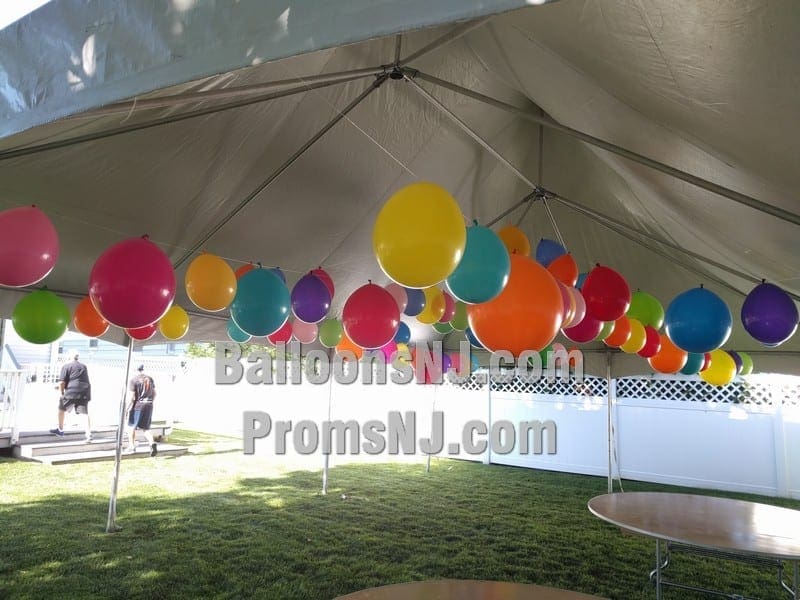 The air-filled tent decor seen above can be installed the prior day in most cases.
If the tent is so large that it is hard to rig lines for air-filled clusters you can go to helium-filled cluster lines created on the day of the event.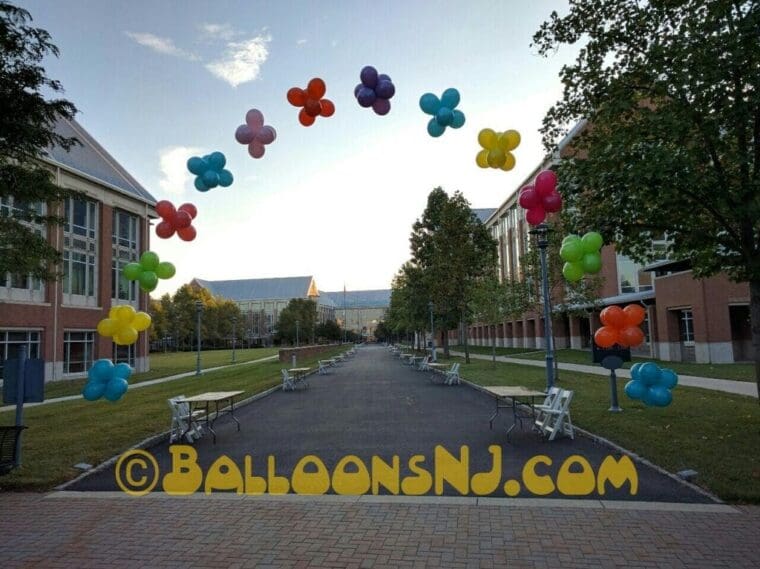 The ends of the cluster line arch have to be attached to *something*.. in the first case, border fences.. other examples have been trees, tent poles, light poles, fixtures on a building… while it can work on weights you always have to be aware of where people might be walking.
The daisy on rails look is very nice.  Also works on tent poles, light poles and even trees.  And if you make them a solid color without a contrasting middle, that works also.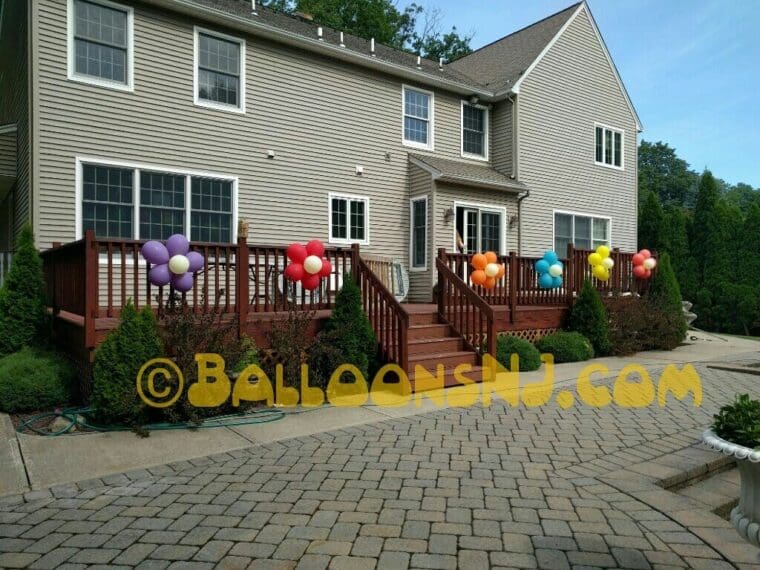 Some public parks allow balloons. NJ State parks do not. But often you will find picnic areas and groves with structures like these.
This gazebo made it easy to run lines with air clusters inside the gazebo. Without the cross beams on the ends, I would likely need to use helium clusters inside.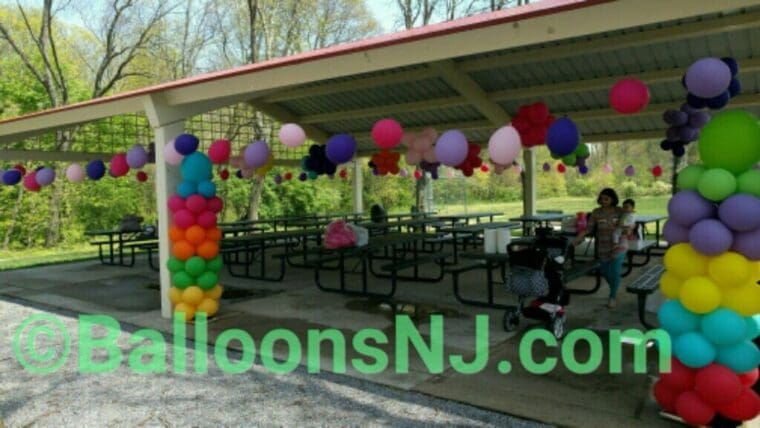 On the outside a line can be run and drape single air-filled balloons.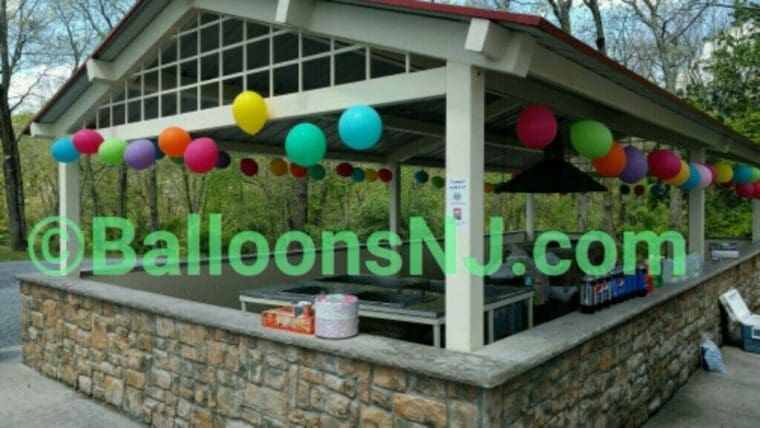 Really tall columns make a statement as well.. though positioning them next to tent poles or similar structures for added support might be necessary.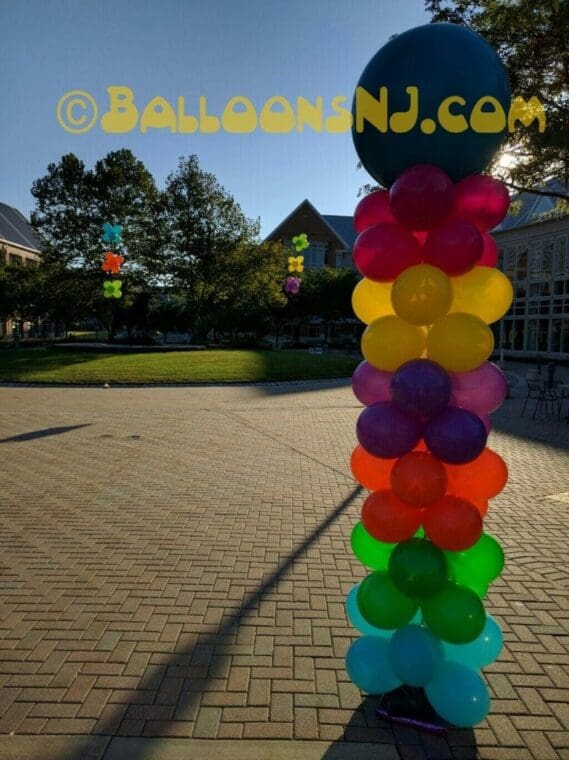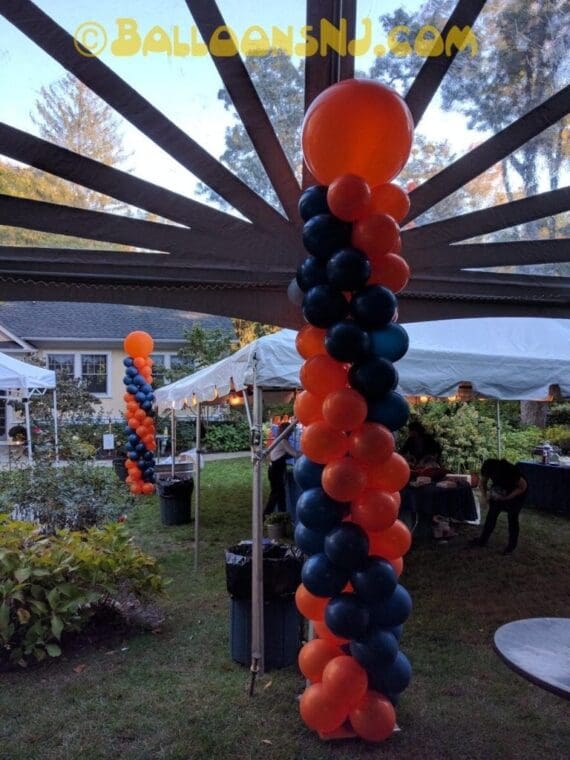 If you need something directly on a table you want something the wind won't get a hold of.. This table piece has 8 5-inch balloons on a shiny spray weight. I'd probably use red and blue weights similar to this one and use your colors. Somewhat flexible to color schemes using different color weights and balloons.
Of course the big helium arches work..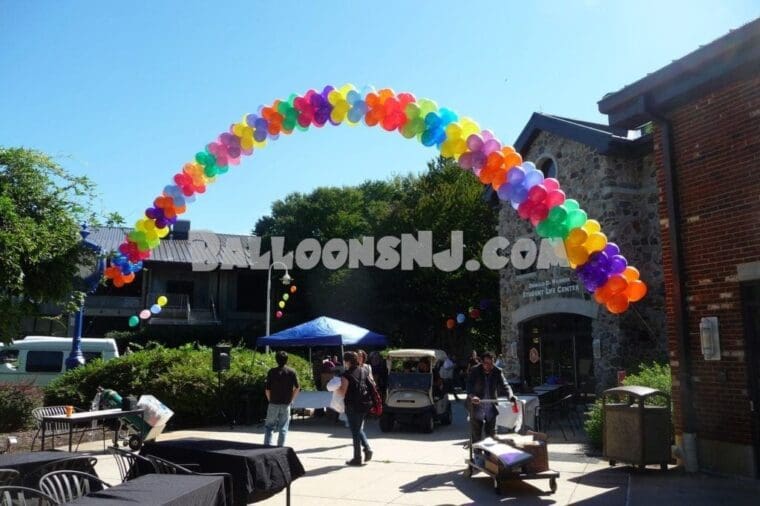 as well as smaller air-filled arches…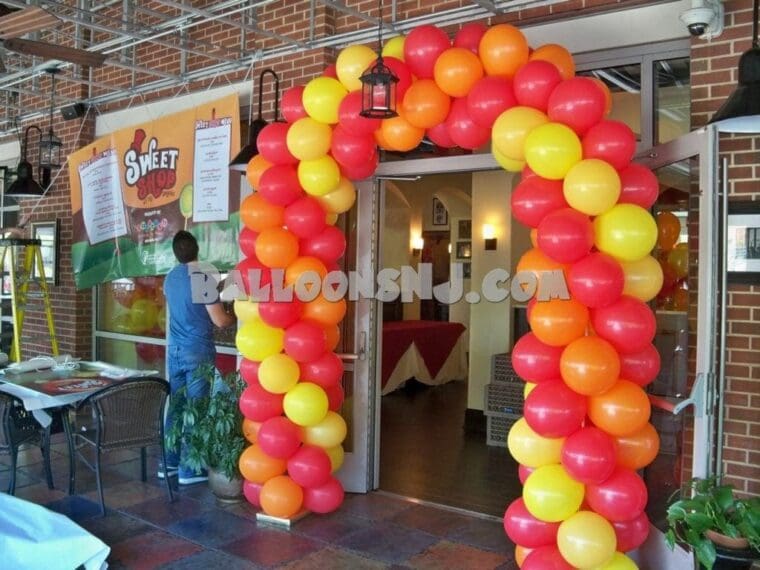 Enjoy your backyard or pool party or outdoor event and make it an instantly recognizable celebration with balloons!